Content Creation
At Ducimus Digital Solutions, we know that words have power. We lead potential customers to your business by using the right words in the right places. We guide your business to its full potential by helping people connect with you.
Allow us to help you generate recurring interest in your business by creating blog posts that appeal to your target audience.
Proofreading/Editing
We can be the second set of eyes you need to ensure that what you've already written shines the best possible light on your business.
Shareable Content
Social media is a great way to keep your business in the spotlight. Let us create content people will want to share over and over again.
Creative Copywriting
We can put the words on your pages together in ways that will spark interest and generate business for your company.
SEO Strategy
Using the right words in the right places will improve your search engine ranking. Let us help you reach the top!
Content Strategy
We have the know-how to match words and images in a way that will make your digital content memorable for all the right reasons.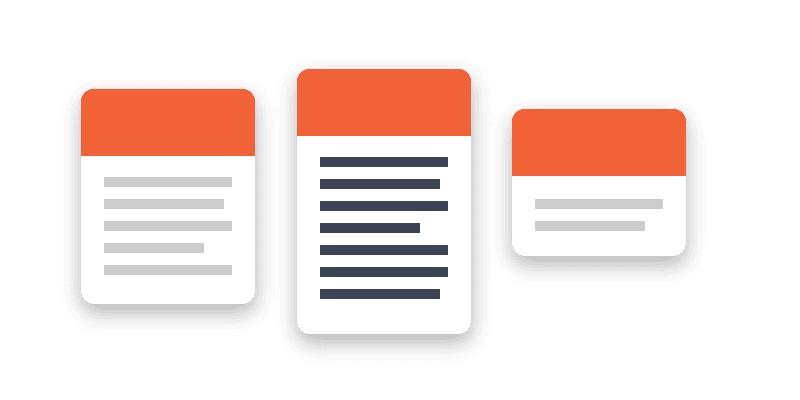 A Blog can be a great way to keep people coming back to your page again and again. It can also be a great way to eat up the time you already don't have enough of. Hiring Ducimus Digital Solutions to write your blog posts for you allows you to capture repeat visitors without using up your valuable time.
We'll work with you to choose topics that will appeal to your target audience, and then we'll write the articles. We'll make sure you're happy with what we've created, and then post it on your website. You get all the benefits of regular blog posts without the hassle of having to write them yourself!
Are you confident about your ability to create your own content? That's great! Not everyone needs to hire someone else to write the words they need to promote their business. But even the most skilled writers need someone else to review what they've written. What's clear to a writer isn't necessarily clear to a reader, and not every typo can be caught by spell-check. We won't even mention the horrors created by auto-correct. Let us help! We would love to proofread what you've already written to ensure your content is maximally effective and error-free.
Social media can be an extremely powerful marketing tool, but only if people see what your business is posting. If you can create something people want to share that also generates interest in your business, then you've created traffic to your website. If you can convert that traffic into sales, then social media just made you money! Let Ducimus Digital Solutions help you create content people will want to share so that you can enjoy the benefits of effective social media marketing.
Creating effective content isn't just about putting words on a page, it's also about pairing the right words with the right media and then putting it all together in a way that attracts attention AND converts traffic into sales. We know how to put all the right things in all the right places so that your audience will remember you and your digital space will make you money. Take a look at what we've done so far.
You have to use the right words if you want your site to appear on the first page of a search engine, but you can't just use the same right words everyone else is using, you have to find the right words that everyone else isn't using so that your page will come out at the top of the search. Ducimus Digital Solutions has the skill to get the highest possible ranking for your site. Let us show you what it feels like to show up at the top of the list.
There are ads that feel like advertising, and then there are ads that just make you feel–happy, sad, angry, inspired…whatever. It doesn't matter, because it doesn't feel like an advertisement, it feels like something worth feeling. That's creative copywriting. At Ducimus Digital Solutions, we want what we create for you to be something worth experiencing. We want you to love it, and we'll keep working until you do.
"As long as the free market exists, businesses will need advertising, but people don't want to be hooked by an ad, they want to be moved by something. They want to be hooked without knowing they've been hooked."
Penni Batty, Senior Content Writer @ Ducimus Digital Solutions
"Writing for business doesn't have to mean writing something that's not worth reading. Even business writing can be beautiful writing."
Penni Batty, Senior Content Writer @ Ducimus Digital Solutions
"We write for people first. You can do the best search engine optimization on the web and still not create a site that people want to spend their time reading. We want to create something people will enjoy, and something people will remember, so that they will come back to see it again and again."
Penni Batty, Senior Content Writer @ Ducimus Digital Solutions
Choose something beautiful. Choose Ducimus Digital Solutions